Cayman Islands Real Estate
From Sand to Sold - Cayman Real Estate Explained
Sparkling turquoise waters meet white sand beaches as you dive into the irresistible charm of Cayman real estate
A Tropical Getaway Awaits
This is your invitation to embrace a life filled with luxury, relaxation, and endless tropical allure. The sun-kissed Cayman Islands are not just picturesquely beautiful; they boast a thriving economy with a history of stability and robust financial growth. The Cayman Islands is a trio of islands: Grand Cayman, Cayman Brac, and Little Cayman.
Grand Cayman hosts around 60,000 residents, with 53% being Caymanian, the rest are immigrants from all over the world. Cayman Brac has around 1500 residents, and Little Cayman has around 200.
Why Invest in the Cayman Islands?
Are you considering an investment? When it comes to making a splash in the world of investments Cayman stands tall as a symbol of stability and opportunity. Investors are seeking refuge in the Cayman Islands because property values remain strong after a period of global instability.
Foreigners can own local property in the Cayman Islands without any restrictions as long as they use it for personal use. If they rent out the property as an investment, they will not have to pay any annual property or capital gains tax. If you rent the property to residents of the Cayman Islands, there is no tourist tax.
Practical Tip – Before diving into Cayman, seek guidance from trusted advisors who can assist you with tax advantages and investment potential.
Recently Listed Properties
Navigating the Shores of Cayman
Discovering your perfect property in the Cayman Islands is a lot easier with our help. We know Cayman inside out and can advise you on every neighborhood in the Cayman Islands and its benefits.
If you want energy, then look around Seven Mile Beach. If you seek tranquility then consider South Sound. For the true local feel head to East End and West Bay, there's a perfect property for you somewhere. The luxury homes market in Grand Cayman has seen consistent growth – evidence of the timeless charm found in this paradise.
Purchasing Your Piece of Paradise
Understanding the buying process when it comes to Cayman is like embarking on a snorkeling adventure. As you dive into the ocean of paperwork you'll find that the process is surprisingly smooth and transparent. The Cayman Islands offer an advantage for buyers as there are no ownership restrictions. This ensures that your property rights remain as pristine as the surrounding coral reefs.
Practical Tip – Collaborate with local, knowledgeable real estate agencies to find your perfect property. By visiting our dedicated listings pages you'll get a feel for what's out there right now.
Our wealth of experience, unrivaled local knowledge, and very high standards will help you navigate the waters of documentation and legal requirements smoothly.
Embracing the Dream of Cayman's Beauty
The most popular attractions in the Cayman Islands are Stingray City and Seven Mile Beach (actually 6.3 but hey). The islands are also renowned for world-class scuba diving and a plethora of other watersports to immerse yourself in.
Absorb the cultural tapestry of the islands in West Bay or East End, there's something for everyone every day and night of the week.
Fun Tip – Did you know that the Cayman Islands host a Pirates Week Festival every year, attracting enthusiasts from over the world?
Buying and Selling Your Tropical Paradise
Finding and buying or selling your haven in the Cayman Islands is refreshingly uncomplicated. With such high demand for property, especially sales in the Cayman real estate market have seen continued growth. Especially with ultra-luxury beachfront residences on Seven Mile Beach. The allure and warm communities these islands possess are eternal.
For commercial investors, there are countless unique business opportunities that make Cayman the ultimate place for starting up.
Who Buys Cayman Real Estate?
Cayman has many types of buyers attracted to the plethora of 7th Heaven properties. European and North American workers who originally planned to only stay a while, find permanent homes in a variety of affordable properties. Be they lawyers, accountants, or restaurant servers, the islands appeal to sun-seekers from all walks of life.
It's not just the ultimate place for tourists and workers. Private investors, multinational corporations, hotel chains, and international bankers all see the many other benefits of investing in Cayman real estate.
Cayman Real Estate Offers More Than Physical Property
You inherit a lifestyle and environment as breathtaking and unique as a Cayman Islands sunset. Choose stability, natural beauty, and a vibrant community that mirrors the coral reefs surrounding this beautiful trio of islands.
Start your path toward owning your perfect property in this Caribbean 7th heaven. Use our website to explore our many apartments and condos, your very own piece of paradise with us.
While we also feature land for sale, our website features the perfect home for you with many affordable options. Start your search of our Cayman listings now and let's find it together.
Inquire for More Information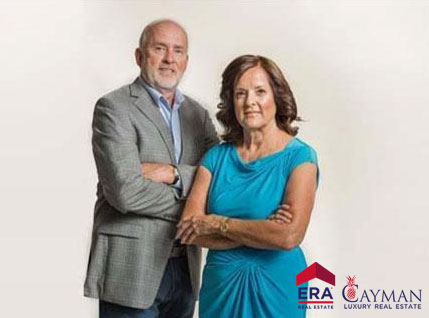 Proud ERA Caribbean Franchise