Antigua and Barbuda Real Estate
Discover the Irresistible Charm of Real Estate in Antigua & Barbuda
Picture yourself waking up to the soothing sounds of ocean waves. Owning property in Antigua & Barbuda offers a blend of luxury and the tranquility of island living.
Antigua, Barbuda, and Redonda collectively form the nation known as Antigua and Barbuda boasting a collection of 365 beaches (one, for every day of the year!). These islands are not part of the Commonwealth of Nations but belong to the West Indian Leeward Islands. With their climate, they serve as a destination for getaways, romantic honeymoons, or even real estate investments.
The Enchanting Real Estate Landscape of Antigua & Barbuda
The alluring landscape of Antigua & Barbuda presents a treasure trove for real estate enthusiasts. Golden sandy shores and turquoise waters make these islands not just enchanting travel spots but also promising havens for investment opportunities that will captivate your imagination.
Embracing Possibilities: Unmatched Investment Opportunities
From stunning beachfront villas to charming cottages nestled on scenic hillsides, there is an extensive range in Antigua & Barbuda.
Imagine the potential of transforming a corner of this paradise into your very own source of income. Vacation rentals have become incredibly popular attracting visitors who are looking for an amazing experience and you can tap into this potential. Enjoy a stream of revenue while living the ultimate island lifestyle.
Unleash your potential with investment prospects – from beachfront villas, to charming cottages tucked away on picturesque hillsides.
Investors looking to diversify their portfolios, protect assets, and enhance global mobility should consider investing in Antigua and Barbuda real estate. With its world-class beaches, reefs, endless sunshine, and vibrant culture, Antigua and Barbuda is a paradise location. What's even more enticing is that, unlike many small nations, it offers the opportunity to obtain a second passport in exchange for an investment.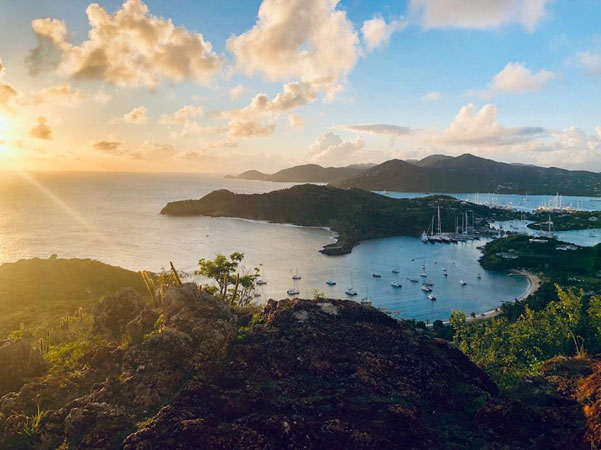 Gaining Insights into the Property Market; Getting a Glimpse of What is to Come
The real estate market in Antigua & Barbuda features a tapestry of trends and predictions that captivate both investors and homeowners alike.
One thing is certain; the increasing demand for eco-friendly properties. More real estate buyers strive to minimize their impact on the environment while enjoying the breathtaking beauty of the Caribbean.
Navigating Your Journey in Acquiring Real Estate in Antigua & Barbuda
Earn a second passport by investing in Antigua and Barbuda's real estate. You can do this via the Citizenship by Investment Program without having to physically reside there. As a foreign investor, this option is encouraged to expand your investment portfolio and gain a second passport without relocating.
Investing in real estate is the most profitable way to earn a return and gain a second home in paradise. Famous personalities like Oprah Winfrey and renowned fashion designer Giorgio Armani already have properties in Antigua.
First-Time Buyer? Your Essential Toolkit Awaits
You're hooked on Antigua & Barbuda but where do you start? Learn how to distinguish between freehold properties understand the importance of Title Deeds and navigate through the complexities of property taxes. Once you have a grasp of the fundamentals you're ready to make a choice that aligns with your goals.
Sailing smoothly in legal waters
When it comes to exploring estate in another country dealing with matters can sometimes feel overwhelming. However there's no need to worry. The process of owning property in Antigua & Barbuda is transparent and fair. Legal advisors can guide you via due diligence, ensuring that your rights and responsibilities as a property owner are completely clear.
From Luxurious Havens to Tranquil Retreats: A Spectrum of Property Delights
Antigua & Barbuda offers a range of options to suit everyone's preferences. Whether you're looking for havens or peaceful retreats nestled in the countryside these beautiful islands have something for everyone. From ocean views to plantation houses with intriguing histories the scenic landscapes cater to your every need.
Unveiling Investment Wizardry: Strategies for Unleashing Lucrative Returns
But there's more to Antigua & Barbuda than being getaways; they are also ideal for savvy real estate investments. Making strategic investment decisions with proper timing can significantly impact your returns. It's important to conduct research on historical trends, consult with local experts, and closely monitor economic indicators. Taking advantage of opportunities during peak seasons can open up a wealth of lucrative returns. Remember to stay informed and make informed decisions.
Navigating the Real Estate Market with Ease: The Benefits of Working with a Realtor
Having a real estate agent is incredibly valuable. Experienced professionals in the real estate industry have an understanding of the market providing invaluable insights and guidance. Whether you're looking for investment properties or your dream home a skilled realtor will guide you through the complexities ensuring an hassle-free experience.
Beyond Ownership: Mastering the Art of Managing Your Antigua & Barbuda Abode
Congratulations on becoming the owner of your piece of paradise! However, owning property is the beginning; effective management is crucial for maximizing its potential in Antigua & Barbuda.
Renting Out Your Vacation Property
Imagine this scenario; travelers from around the globe choose your property as their home away from home. With Antigua & Barbuda's enchanting beauty combined with your maintained haven, it becomes an irresistible choice for vacationers. Before embarking on the journey of renting out your vacation property consider working with a property management company that specializes in hospitality services. They can handle everything from guest bookings to maintenance ensuring that your property remains sought after, among holidaymakers.
Balancing Act: Taming the Challenges of Property Management
Finding a balance, in property management can be quite a challenge despite the benefits of vacation property rentals. It's crucial to give attention to ensuring guest satisfaction. One way to achieve this is by selecting a property management team or developing self-management practices. Remember, delivering experiences for guests leads to reviews and repeat bookings.
A Glimpse into Tomorrow: Anticipating the Shifting Sands of Antigua & Barbuda Real Estate
The real estate industry is constantly evolving, so Antigua & Barbuda is no exception. While enjoying the perks of owning property it's wise to keep an eye on trends.
Green Dreams: Embracing Sustainable Living in Caribbean Real Estate
Antigua & Barbuda's commitment to preserving its beauty sets the stage for real estate development. Picture properties that seamlessly integrate energy sources, efficient water management systems, and eco-friendly materials.
What does the future hold for Antigua & Barbuda real estate?
Industry experts envision a growing demand, for properties that offer a rounded living experience. Eco-friendly homes that cater to leisure, wellness, and community will sell quickly.
Your Odyssey Begins - Embark on a Journey into Antigua & Barbuda Real Estate
Immerse yourself in the beauty of Antigua & Barbuda seize the opportunities that await and make your mark on this paradise. The keys to your dreams in Antigua and Barbuda are ready for you to claim.
We are grateful to have you join us as we explore the realm of estate, in Antigua & Barbuda. Our experienced team is here to support you at every step of your property journey. Get in touch with us today and let's turn your real estate aspirations into a reality.
Inquire for More Information